Digital kommunikation
Området dækker en række løbende projekter omkring mobiltelefonkommunikation, tværmedial kommunikation, medieret kommunikation og email-konsulationer i lægeprakisser
Udvalgte publikationer:
(2023). Laursen, D., Brøgger, M. N., Fage-Butler, A. M., Møller, J. E., & Grønning, A. (2023). Generic characteristics of patients' e-consultations with general practitioners. Communication and Medicine, 18(2), 168–184. https://journal.equinoxpub.com/CAM/article/view/22885
(2022). Laursen, D., Simonsen, L. M., & Grønning, A. Methodological challenges in researching email consultations as a form of communication in patient-provider interactions. Qualitative Research. https://doi.org/10.1177/14687941211061058
(2020). Laursen, D. og Rathje, M. E-mail, sms, chat og sociale medier. [E-mail, SMS, Chat and Social Media] In: Ebba Hjort, Henrik Galberg Jacobsen og Bent Jørgensen: Dansk Sproghistorie, [History of Danish Language] bd. 1-4, Det danske sprog- og litteraturselskab, p. 233-245
(2019). Laursen, D. & Grønning, A: Methodological challenges in researching econsultations as a form of communication in patient-provider interaction. Nordmedia: Communication, Creativity and Imagination: Challenging the Field , Malmö, Sverige.
(2018). Grønning, A., Klausen, M., Assing Hvidt, E., Laursen, D., & Simonsen, L. M. E-consultations (e-cons): Roundtable discussion ICCH. The 16th International Conference on Communication in Healthcare, Porto, Portugal.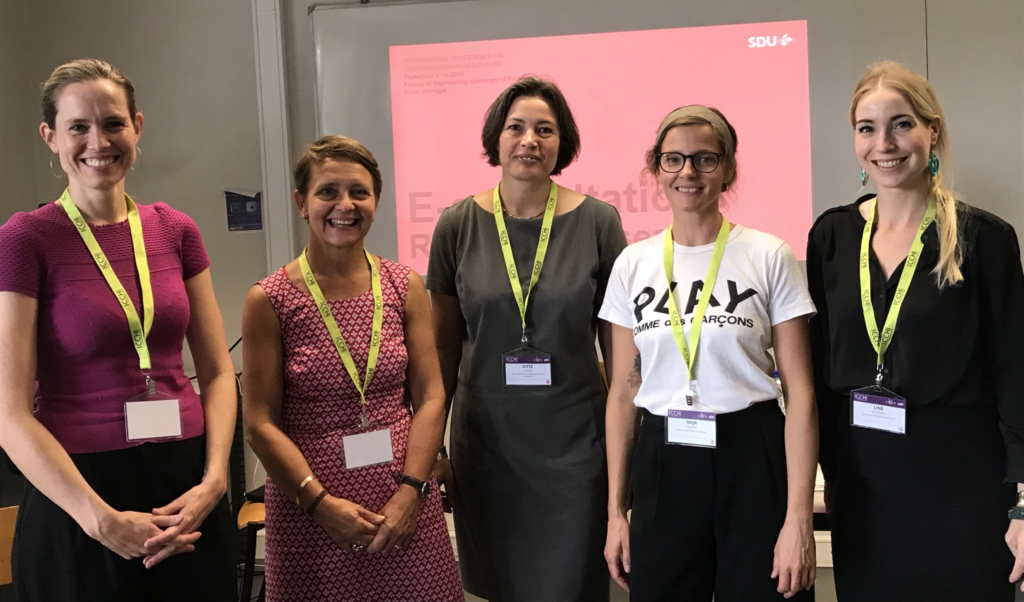 (2015). Mobile telephone discourse. I International Encyclopedia of Language and Social Interaction. (s. 1017-1024). Wiley-Blackwell.
(2014). Talesprog og skriftsprog i medierne. I S. Kolstrup, G. Agger, P. Jauert, & K. C. Schrøder (red.), Medie- og kommunikationsleksikon. (3 udg., s. 567-569). København: Samfundslitteratur.
(2014). Talking with TV shows: Simultaneous conversations between users and producers in the second-screen television production Voice. Northern Lights, 12(1), 141-159. With Sandvik, K.
(2013). Organizing 'my mind is with you': Continued interaction after closed interaction via the mobile phone. I K. M. Cumiskey, & L. Hjorth (red.), Mobile Media Practices, Presence and Politics The Challenge of Being Seamlessly Mobile. (s. 101-115). Routledge. (Routledge Studies in New Media and Cyberculture).
(2013). Where are you? Location talk in mobile phone communication. Journal of mobile media and communication, 1(3), 314-334.
(2012). Sequential organisation of text messages and mobile phone calls in interconnected communication sequences. Discourse & Communication, 6(1), 83-99.
(2011). Sprog og kommunikation i medierne. I S. Hjarvard (red.), medieDK. (s. 146-163). Lindhardt & Ringhof.
(2010). Continuous communication among young people via mobile telephone . I J. N. Jørgensen (red.), Vallah, Gurkensalat 4U & me! Current Perspectives in the Study of Youth Language. (s. 25-41). Peter Lang. (Sprache – Kommunikation – Kultur Soziolinguistische Beiträge).
(2010). Counselling young cannabis users by text message. Journal of Computer-Mediated Communication, 15(4), 646-665.
(2007) Laursen, D. Nåede han bussen? Sammenhængende kommunikationsforløb mellem unge via mobiltelefonen. MedieKultur, (42/43), 54-63. External link to article.